Taxicab Accidents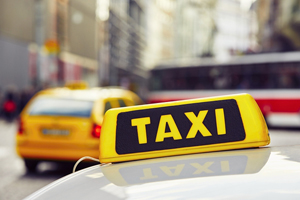 Most taxicab companies go to great lengths to hire and train responsible, skilled drivers to transport their clientele. Unfortunately, not all taxicab companies are so dedicated. Nor are all drivers as responsible as they appear. Taxicab drivers in California must obtain a special license before seeking employment. To be licensed, the driver must be clean, healthy, have a California driver's license, have no criminal record, a 10-year clean driving record and complete a taxicab driver's school. They must also be fingerprinted and have a full background check.
What Causes Taxicab Accidents
The process to become a California taxicab driver is rigorous and takes time. Potential drivers must be dedicated to their goal to succeed. One would think that having to try so hard to obtain the position; drivers would be protective of their careers. Not always so, however. There are taxicab drivers who abuse drugs or alcohol while on the job. Even if they are not abusing controlled substances, taxicab drivers often employ aggressive driving techniques. Their income is derived from the amount of fares they can take per day. They are in a hurry to get to where they are going all day long. The more clients they can pick up per day, the more money they make. This often causes drivers to put safe driving on the back burner. Taxicab drivers often take risks such as:
Running red lights and stop signs
Not keeping safe distances between cars
Speeding and driving too fast
Bad weather
Poor taxicab maintenance
Another issue is the intense traffic on California roadways. Famous all over the country for our road rage instances and heavy traffic, California roads are a world unto their own. Heavy congestion and aggressive drivers lead passengers to believe taxicabs are a safer alternative. It is a devastating disappointment when a taxicab driver causes an accident from negligence.
Injuries Resulting From Taxicab Accidents
Cab companies must possess an intensive insurance policy before opening for business. Any and all passengers who suffer an injury related to the company driver are entitled to remuneration from the cab company's insurance company. The majority of California cab companies carry upwards of $50,000 in coverage as well as liability required by the state. Injuries from taxicab accidents can include any of the following:
Traumatic brain injury
Lacerations and sever gashes to the head and body
Hemorrhage
Spinal cord injury
Paraplegia or quadriplegia
Broken noses, teeth and jaws
Permanent scarring
Loss of vision
Broken pelvis and legs
Disc Herniation
Mental Stress
Post-Traumatic Stress Disorder
What to Do After a Taxicab Accident
When involved in a taxicab accident, there are some important things to remember.
Gather all evidence from the scene, including names and driver's license numbers and addresses of all drivers and witnesses
Document all of the taxicab driver's information such as cab registration number, driver's license number, name, employer and plate number
Take as many photos as possible. Photo evidence is powerful and can disclose more than the untrained eye can fathom.
Make certain the police arrive and request a copy of the police report
Seek medical attention immediately
If you or a loved one has been injured in a Taxicab Accident, you will need a lawyer with experience. Call Moseley Collins at (916) 444-4444 for a free consultation.
Moseley Collins is a personal injury attorney serving those badly hurt throughout California. There is absolutely NO FEE to discuss your case and there is absolutely no fee unless we win and get you the money you are entitled to. We are on your side and know what to do to get you compensation and justice.
Moseley Collins
980 9th St, 16th Floor
Sacramento, CA 95814
Phone: (916) 444-4444
http://www.moseleycollins.com/