SUV Rollover Accidents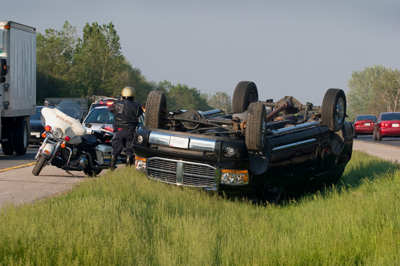 SUV rollover accidents happen every year. The very design of these large vehicles makes them more prone to rollover accidents than other types of vehicles. They are top heavy with a narrow wheelbase, essential destined to rollover. Their higher center of gravity and narrow wheelbase makes them especially easy to topple over in turns and around curves. A rollover in an SUV almost always ends in a fatality. Thirty-five percent of all SUV crashes entail a deadly rollover. More than 10,000 SUV rollover fatalities are reported each year.
SUV's have a number of design issues experts have tried to call attention to for years, the top heavy/narrow base design the largest. Other potential safety concerns for SUV's include:
The door latches in SUV's are often not equipped to sustain the strength of impact during a rollover and allow the doors to open and victims to be ejected from the vehicle.
SUV roofs are consistently too weak to withstand the pressure of the vehicle during a rollover and most often the passengers are crushed to death.
Safety belts that retract during an accident and laminated glass to prevent passengers from being ejected are often not features of an SUV.
Rollover accidents in SUV's can cause a wide array of injuries as well as death or dismemberment. Other injuries could include internal injuries, brain damage, lacerations, contusions, broken bones, paralysis, and spinal cord and nerve damage. The impact of a rollover is so hard it can cause all manner of injuries. Full recuperation means many weeks, months and even years of medical and rehabilitative care. It is a possibility that the victim may never return to a normal state. Long term medical care can cost millions of dollars.
Rollovers can be prevented with safe driving techniques and preventative measures.
Avoid distracted and drowsy driving. Driving while texting, adjusting the radio, eating or otherwise distracted takes your attention from the road and you're driving. It's easy to make mistakes when you're not concentrating on the task at hand. Only mistakes while driving, especially an SUV, can cost you your life. Driving while tired is much of the same. Try as you might to stay awake and alert, if you're tired you may fall asleep.
Overcorrecting is another preventable cause of rollover. When an SUV leaves the road, it is imperative that the driver not jerk back onto the road but instead, reduce speed and ease back onto the road. Overcorrecting is turning the steering wheel to much in an attempt to correct the wheel direction. This is especially true when there is debris on the roadway or on rural roads when animals enter the road.
The maintenance of the SUV has a bearing on the rollover factor as well. Tires are of utmost importance. They must have adequate air pressure and proper tread. Overloaded SUV's are also at greater risk for rollovers. The heavier they are, the more unstable they become.
SUV rollovers are serious and can cost the victims and their families thousands of dollars in damages and expenses.
FREE CONSULTATION: Call Sacramento auto accident lawyer Moseley Collins at (916) 444-4444
If you or a loved one has been injured in an auto accident on a construction site, you will need an attorney with experience. Call Moseley Collins at (916) 444-4444 for FREE auto accident case consultation. Moseley is a personal injury lawyer serving those badly hurt throughout California.
There is absolutely no fee to discuss your case and there is absolutely no fee unless we win and get you the money you are entitled to. We are on your side and know what to do to get you compensation and justice.
Moseley Collins
980 9th St, 16th Floor
Sacramento, CA 95814

Phone: (916) 444-4444

http://www.moseleycollins.com/