Sideswipe Accidents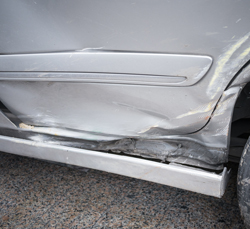 As the name suggests, a sideswipe accident occurs when the sides of two cars contact and swipe along each other. It happens when two cars pass each other two closely going in the same direction or in opposite directions. The Insurance Institute of Highway Safety purports that opposite direction sideswipe collisions are four times more likely to occur than same direction sideswipe collisions. This type of accident most often occurs because the driver is not paying enough attention and attempts to change lanes without looking. It is possible for sideswipe accidents to happen anywhere cars are driving but they are most prevalent in areas where two lanes merge such as interstate ramps. Common causes can include any of the following:
Texting or Talking on the phone
Talking with a passenger
Playing with the radio
Using an electric device, like a tablet
Fatigue or sleep deprivation
Driving under the influence of drugs and/or alcohol prescribed or illegal
Aggressive driving
Improper or frequent lane changes
Speeding or racing
Sideswipe accidents can be particularly dangerous because of the cars safety precautions. Car accidents typically happen to the front or rear of the car, which is why bumpers are placed there. Bumpers help to absorb some of the shock of the hit and also to protect the inhabitants of the car. The sides of a car do not have bumpers or safety panels. Only the thin material of the door separates the driver and passengers from the road and other vehicles. Additionally, these types of accidents can cause the driver to lose control and hit other objects and even roll over.
The Insurance Institute of Highway Safety approximates nearly 250,000 sideswipe incidents per year resulting in approximately 27,000 injuries and over 2,500 fatalities. The high chance of veering off the road, hitting other objects and even rolling over make the injuries for this type of crash pretty horrific. Any of the following injuries are possible in a sideswipe accident:
Traumatic brain injury or TBI
Spinal Cord Injury or SCI
Broken or fractured bones
Neck Injury
Loss of limbs and amputation
Cuts, bruises and lacerations
Nerve and spinal cord damage
Carpal tunnel syndrome
Shoulder impingement
Knee injuries
Rotator cuff injury
Hip impairment
Determining fault in a sideswipe accident can be very easy or quite difficult, depending on the circumstances. It is possible to not know who sideswiped you. However, if a car is parked in a legal spot and is sideswiped the offending driver can be charged with hit and run if they do not find the owner of the parked car or leave their contact information. It can be very difficult to assign fault when both cars are going the same direction. Often it takes an expert crash investigation which includes witness testimony and police reports.
Insurance companies for negligent drivers will attempt to minimize any injury received in the accident. Detailed and full documentation must be made at every step of the way. Sideswipe accidents are frightening situations. The side of the car is the least protected and great bodily damage can occur.
Moseley Collins
980 9th St, 16th Floor
Sacramento, CA 95814

Phone: (916) 444-4444

http://www.moseleycollins.com/