Seat Belt Malfunction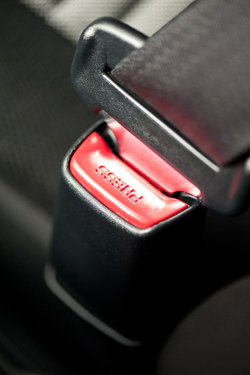 When you get into your car with your children, what's the first thing you probably say to them? It's probably, "Buckle up!" Even your car tells you to buckle your seatbelt. Many modern car designs have bells that will continually ring until a person buckles his or her seatbelt. You rely on seatbelts to keep you and your loved ones safe, and if an accident should occur, then you should be reasonably certain that your seatbelt will protect you all.
Despite the fact that statistics have consistently shown over the years that wearing a seatbelt decreases your risk of injury in an accident, a seatbelt can still cause on injury under certain circumstances. While most injuries are minor and do more good than harm, some very serious injuries can be caused by seatbelts.
Seatbelts and Accidents
In most cases, a seatbelt prevents a person from moving too much in the event of a crash or from being totally ejected from the vehicle. Normally, the sudden-stop movement would cause a person to be flung forward until a larger item, such as a tree, stops the person from moving. So long as a seatbelt is worn properly, drivers and passengers should be fine.
A manufacturing error on the seatbelt however, may cause an injury. Most of them result in scrapes and bruising, but for the most part, these injuries are very minor. Lap belts, however, can cause more serious injuries to the spinal cord and the abdominal sections of the body. Shoulder belts have been known to injurer a person's sternum, shoulder, or even their necks.
Seatbelts can also exacerbate injuries that other parts of the accident caused. For example, a person may get whiplash in an accident, but because the seatbelt was incorrectly buckled, the neck moved in a way it shouldn't, causing a fracture.
In other instances, the impact of the crash actually caused the seatbelt to come unlatched. This is a serious flaw in the design, or possibly the manufacturing process. Car manufacturers are supposed to anticipate serious crashes so they can better design cars that are able to withstand these accidents.
Lawsuits and Seatbelts
Depending on the case, you can go after a vehicle manufacturer if you have reason to believe that a manufacturing or design defect caused your injuries during an auto accident.
A defect in a seatbelt simply means that the actual seatbelt did not work as it was intended to work during the course of the accident. For example, the latch might have come undone or the tension detectors were actually defective in design, which could cause them to become relaxed and fail to stop a person from moving forward in the event of a crash.
More recently, insufficient seatbelt lawsuits have been coming forward, which have lawmakers wondering whether or not a manufacturer can actually be held responsible for certain seatbelt designs in their vehicles.
The most recent examples show that plaintiffs are coming forward saying that they are more susceptible to injuries because their vehicles only have a shoulder strap, versus the traditional lap and shoulder belts. Because of this, they claim, they are more likely to have certain injuries.
For lawsuits that involve seatbelt designs, plaintiffs may be able to bring a product liability case against a manufacturer. To do so, the plaintiff would have to prove that a flaw in either the design of the vehicle or the manufacturing of the vehicle led to an injury that resulted from a car accident. An experienced attorney can help any plaintiff iron out the finer details of these types of cases and bring them forward.
If you or a loved one has been involved in an auto accident, call Sacramento auto accident attorney, Moseley Collins. There is no fee to start and no cost to you unless we win.
Moseley Collins
980 9th St, 16th Floor
Sacramento, CA 95814
Phone: (916) 444-4444
http://www.moseleycollins.com/