Santa Clarita Motorcycle Accident Lawyer
Motorcycles are a blast to ride. There is nothing like that feeling of freedom. However, every day, people are injured or killed in motorcycle accidents on the freeways, highways and roads in Santa Clarita and throughout Northern California. In fact, each year approximately 500 motorcycle accidents happen across the state of California and nearly 55 people die in California motorcycle accidents each year. These accidents can take a significant physical, emotional and financial toll on the victims and their loved ones. Our law firm represents clients in a wide variety of personal injury cases involving motorcycle accidents and collisions.
After a motorcycle accident, it is crucial to consult with an experienced lawyer to ensure that your rights are protected as soon as possible. Vital evidence could be lost, memories fade and witnesses can be lost if a prompt and thorough investigation is not conducted. This law firm has experience representing clients in all types of motorcycle accidents.
We understand that your primary concern following an accident is getting the medical care you need and protecting your family from financial difficulties. We will calculate the full cost of your accident, from medical bills and lost wages to damage to your bike and pain and suffering to ensure that you receive a settlement that meets your current and future needs. We will handle all aspects of your insurance claim, from negotiating with the insurance company to taking your case to trial if necessary to guard your rights.
If you have been in a motorcycle accident in Santa Clarita, CA or on I-5 or any other major thoroughfare in Northern California, Moseley Collins is here to help you get the compensation you need. Our firm was founded over 40 years ago by Moseley Collins and we have the knowledge and resources to go up against the insurance companies and get you a fair settlement.
Have You or a Loved One Been Injured in a Motorcycle Accident in Santa Clarita, CA? Call (916) 444-4444 to Speak With a Motorcycle Accident Attorney Now
---
Motorcycle Accident NewsOne Dead in Santa Clarita Motorcycle Accident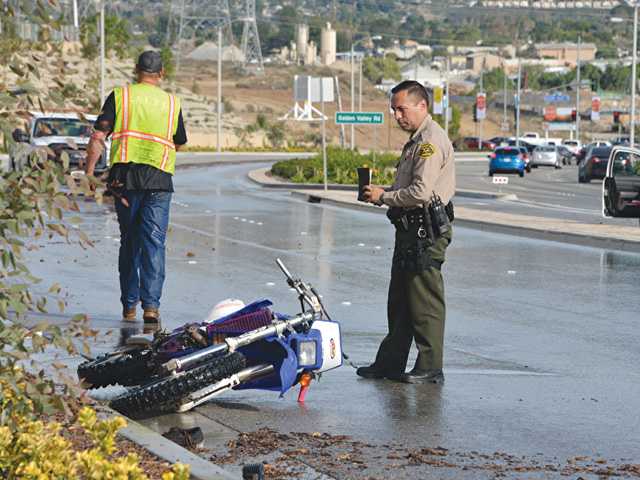 A motorcyclist who hit a fire hydrant near the intersection of Newhall Ranch Road and Golden Valley Road Saturday afternoon died after being transported to the hospital, according to a Santa Clarita Valley Sheriff's Station official.
The incident, reported at 2:58 p.m., involved a man who lost control of his motorcycle before hitting the hydrant, said Lt. Rob Hahnlein.
Paramedics with the Los Angeles County Fire Department responded to the scene and transported the victim to Henry Mayo Newhall Hospital where he "succumbed to his injuries," Hahnlein said. No other injuries were reported.
Superior Court Info
Central Civil West Courthouse:
600 South Common wealth Ave.
Los Angeles, CA 90005
Metropolitan Courthouse:
1945 South Hill Street
Los Angeles, CA 90007
Central Arraignment Courts:
429 Bauchet St.
Los Angeles, CA 90012
Clara Shortridge Foltz Criminal Justice Center:
210 West Temple Street
Los Angeles, CA 90012
Stanley Mosk Courthouse:
111 North Hill Street
Los Angeles, CA 90012
East Los Angeles Courthouse:
4848 E. Civic Center Way
Los Angeles, CA 90022
Hollywood Courthouse:
5925 Hollywood Blvd.
Los Angeles, CA 90028
Eastlake Juvenile Court:
1601 Eastlake Avenue
Los Angeles, CA 90033
Airport Courthouse:
11701 S. La Cienega
Los Angeles, CA 90045
Mental Health Courthouse:
1150 North San Fernando Rd
Los Angeles, CA 90065
Visit their website for more information: County of Los Angeles
City Resource Links
---
Seriously injured
Don't get mad - Get legal
(916) 444-4444