Oakland Motorcycle Accident Lawyer
s Motorcycles are a blast to ride. There is nothing like that feeling of freedom. However, every day, people are injured or killed in motorcycle accidents on the freeways, highways and roads in Oakland and throughout Northern California. In fact, each year approximately 500 motorcycle accidents happen across the state of California and nearly 55 people die in California motorcycle accidents each year. These accidents can take a significant physical, emotional and financial toll on the victims and their loved ones. Our law firm represents clients in a wide variety of personal injury cases involving motorcycle accidents and collisions.
After a motorcycle accident, it is crucial to consult with an experienced lawyer to ensure that your rights are protected as soon as possible. Vital evidence could be lost, memories fade and witnesses can be lost if a prompt and thorough investigation is not conducted. This law firm has experience representing clients in all types of motorcycle accidents.
We understand that your primary concern following an accident is getting the medical care you need and protecting your family from financial difficulties. We will calculate the full cost of your accident, from medical bills and lost wages to damage to your bike and pain and suffering to ensure that you receive a settlement that meets your current and future needs. We will handle all aspects of your insurance claim, from negotiating with the insurance company to taking your case to trial if necessary to guard your rights.
If you have been in a motorcycle accident in Oakland, CA or on I-980 or any other major thoroughfare in Northern California, Moseley Collins is here to help you get the compensation you need. Our firm was founded over 40 years ago by Moseley Collins and we have the knowledge and resources to go up against the insurance companies and get you a fair settlement.
Have You or a Loved One Been Injured in a Motorcycle Accident in Oakland, CA? Call (916) 444-4444 to Speak With a Motorcycle Accident Attorney Now
---
Motorcycle Accident News
Motorcyclist Airlifted For Treatment After Oakland Crash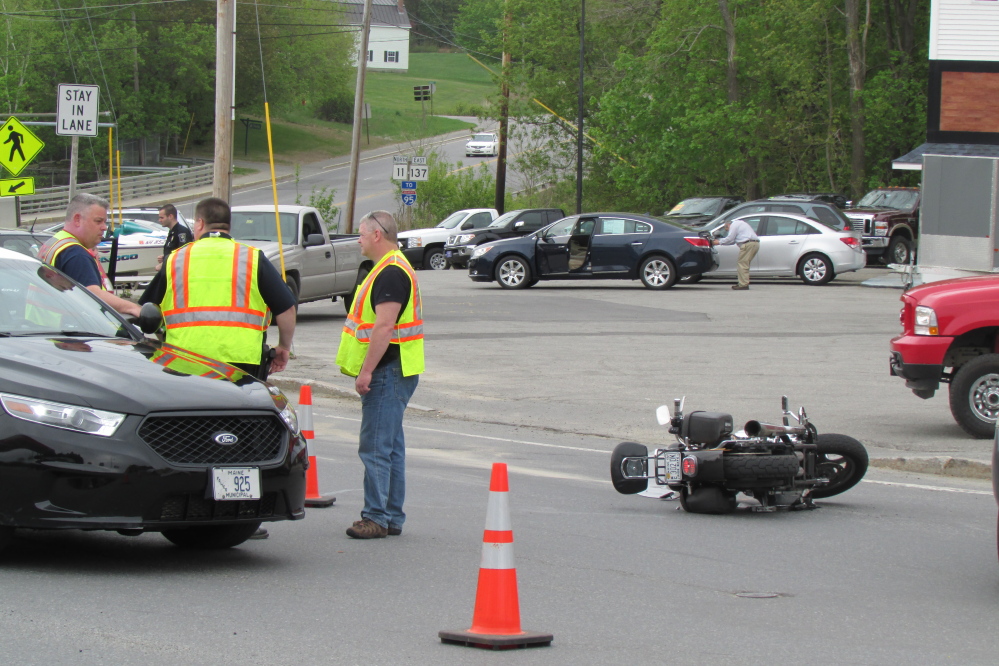 OAKLAND — A motorcyclist from Belgrade was airlifted to a Bangor hospital for care Saturday afternoon, after sustaining a serious head injury when he allegedly drove through a stop sign and crashed into another vehicle in Oakland.
The accident occurred at approximately 2:36 p.m. at a five-way intersection of Main and Water streets in downtown Oakland.
According to Oakland Police Officer Michael Sayers, witnesses said the 55-year-old man was riding a yellow Harley-Davidson motorcycle on Water Street and didn't stop at a stop sign at the intersection of Main Street, where the motorcycle crashed into the back end of a Honda CRV. According to Sayers, the motorcyclist was not wearing a helmet at the time of the crash.
Superior Court Info
Superior Court InfoBerkeley Courthouse
2120 Martin Luther King, Jr. Way
Berkeley, California 94704
Phone & Fax Numbers:
Phone Number: (510) 647-4439
Fax Number: (510) 883-9359
Probate Examiner Phone: (510) 647-4403
Probate Examiner Fax: (510) 647-4428
Hours:
Clerk's Office Hours: 8:30 to 4:30
Document Drop Box: 2:30 to 4:00
Probate Examiner Phone Hours: 2:00 to 3:30 M, T, W & F
Court Division at this Location: Probate
Departments 201 and 202 are located at the Berkeley Courthouse.
Alameda County Superior Court Has 9 Locations:
Alameda - George E. McDonald Hall of Justice
Berkeley Courthouse
Oakland - Rene C. Davidson
Oakland - Wiley W. Manuel
Oakland - Administration Building and Post Office
Fremont Hall of Justice
Hayward Hall of Justice
San Leandro - Juvenile Justice Center
Pleasanton - Gale-Schenone Hall of Justice
Visit their website for more information: Alameda County Court
City Resource Links
---
Seriously injured
Don't get mad - Get legal
(916) 444-4444
Oakland Motorcycle Accident Lawyer FAQs
How Dangerous Is it to Ride a Motorcycle in Oakland?
In 2020, there were 539 motorcycle fatalities in the state of California. However, according to the California Office of Traffic Safety, of the 15 largest cities in California, Oakland is the second most dangerous city for motorcyclists in terms of the number of deaths and injuries resulting from collisions.
Why Is it So Dangerous to Ride a Motorcycle?
Motorcycles are more dangerous than other vehicles like cars or trucks. According to the National Highway Traffic Safety Administration's 2022 report, the fatality rate for motorcyclists was nearly 28 times the fatality rate for occupants of passenger cars and almost 43 times the fatality rate for occupants of light trucks. The reasons for this may be obvious:
The motorcyclist has less protection in a collision or single vehicle accident;
Motorcycles have less safety features;
The motorcyclist is exposed to the elements;
Motorcycles are less visible on the road;
Motorcycles are more vulnerable to road conditions;
The speed of a motorcycle may be more difficult to judge;
Motorcycles require unique skills to ride;
Other drivers may have a natural bias against motorcyclists.
What Safety Precautions Can I Take to Be Safer on a Motorcycle?
Motorcyclists should take all the same safety precautions as drivers of other vehicles to be safe on the road. For example:
Drive sober (don't drink and drive);
Obey traffic laws (don't speed); and
Exercise caution (pay attention; don't be reckless).
But because of the unique dangers inherent with motorcycles, riders should take added precautions to ensure their safety, such as:
Complete a motorcycle safety course before riding;
Wear a helmet (approved by the Department of Transportation); and
Wear added protective gear (eyewear, leather jacket, pants, gloves, protective footwear).
Does California Require Motorcyclists to Wear a Helmet?
Yes. According to the Insurance Institute for Highway Safety, as of March 2023, California is one of 19 states that mandate universal helmet laws for all motorcyclists, regardless of age. Despite this law, according to the National Highway Traffic Safety Administration, of the 539 motorcycle fatalities that occurred in California in 2020, 7% of those riders were not wearing helmets at the time of the accident. Helmet use is a primary factor in reducing motorcycle fatalities and serious injuries.
Do I Have to Have Motorcycle Insurance in California?
Yes. The California Vehicle Code requires all drivers of motor vehicles, including motorcycles, to carry a minimum amount of liability insurance. This includes:
$5,000 to cover damage or destruction of property;
$15,000 to cover death or bodily injury to one person; and
$30,000 to cover death or bodily injury to two or more persons.
If you are in a motorcycle accident and do not have the required insurance coverage in effect, you may be personally liable for any damages and may have your license suspended.
Why Is It Important to Have a Motorcycle Accident Lawyer?
A motorcycle accident can result in serious bodily injury or fatality, as well as significant financial liability if you do not have the insurance coverage that California law requires of all motorcyclists. If you are injured in a motorcycle accident in Oakland, having an experienced motorcycle accident lawyer on your side as soon as possible is the best way to ensure that your legal rights are protected.