Fatal Car Accidents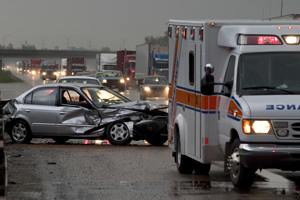 Nothing can prepare you for the death of a loved one in a fatal car accident. It is an emotional pain that has no boundaries. Shock and anguish are the first emotions devastated family members feel but that quickly gives way to anger and grief. It only gets worse if the fatal accident was caused by another driver's negligence.
Research & Statistics
According to Fatality Analysis Reporting System (FARS), California carries the unfortunate moniker of the state with the most fatal auto accidents in the country. Not only does it top the list but by nearly 700 more deaths per year at last count. Los Angeles County having the most vehicle-related deaths in the state. FARS also reports that alcohol is involved in 39% of auto accident fatalities. Between the hours of midnight and 3 a.m. almost all accidents on the road are alcohol related.
Most fatal accidents happen on roads with higher speed limits. Speed limits of 55 or more see more accidents than those at lower speeds. Oddly enough, in 3% of fatal auto accidents, fire is involved. Weekend nights from midnight until 3 a.m. is the most dangerous time of the night to drive.
Deadliest Accidents
When you consider how a car accident would happen that would take a life as an end-result, most people think of head-on collisions. Any accident can end in death depending on the speed and size of all vehicles involved. While it is certainly true all accidents are dangerous, it is the roll-over accident that most often ends in death. Side-impact and rear-end collisions can also be deadly in the right circumstances.
Vehicles & Fatal Accidents
Any type of vehicle can be involved in a deadly accident. Hit any vehicle in the right place at the right time and anything can happen. Animals run in the road and tires blow. There are things that occur that can cause any vehicle to fatally wreck. However, there are some vehicles which may be more prone than others to be involved in a fatal crash.
Van – Both minivans and full size have a high center of gravity which leads to rollovers.
Truck – Big rigs and pick-ups alike are more prone to serious accidents on the freeway according to statistics.
Bus – Buses are hard to turn, have blind spots, are distracting to drive and have a high center of gravity.
SUV – High center of gravity makes rollovers more probable.
Causes of Fatal Accidents
Fatalities can occur in all types of accidents. There are many reasons that can contribute. Negligent driving behavior can result in death for the driver and other drivers on the road around him. Speeding, DUI, road rage, and distracted driving can all cause a fatal accident. Other factors that can cause fatalities include weather, animals, and faulty road conditions or signs.
Death may occur on impact in a crash or result from an injury sustained during the actual accident. Broken bones, brain and spinal cord injuries can lead to death after the accident, sometimes much later. Other injuries could include sever lacerations, burns and head injuries.
If you lost a loved one in a fatal auto accident you will need a lawyer with experience. Call Moseley Collins at (916) 444-4444 for a free consultation.
Moseley Collins is a personal injury attorney serving those badly hurt throughout California. There is absolutely NO FEE to discuss your case and there is absolutely no fee unless we win and get you the money you are entitled to. We are on your side and know what to do to get you compensation and justice.
Moseley Collins
980 9th St, 16th Floor
Sacramento, CA 95814
Phone: (916) 444-4444
https://www.moseleycollins.com/