Construction Site Car Accidents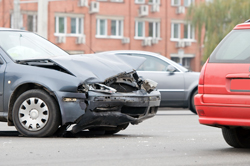 There is no argument that construction sites are some of the state's most dangerous places despite the many state regulations and workplace safety programs. In fact, California statute says all construction workers are entitled to a safe workplace. Despite these valiant attempts, thousands of workers are injured and/or killed on California construction site car accidents each year.
The California Workers' Compensation Act often prohibits injured workers from filing a claim directly against their employer for a work related car accident injury. There are often other negligent parties besides the employer, however. When a car accident happens on a construction site, the equipment manufacturer, engineer, architect, property owners and any number of other people may be responsible.
Construction Site Accidents are Unpredictable
The dangers of construction site are unpredictable. For instance, in 2012 a Pasadena man crashed his car on a construction site after a falling board hit him in the face. For reasons unknown, he jumped in his car to drive himself to the hospital. The pain, blood and loss of consciousness he experienced caused him to crash shortly after attempting the trip. No one expects a board to fall from the sky and hit you in the face but it can happen, as well as even more unusual and unexpected accident. Just because it is unusual doesn't mean someone is not negligent.
What are the Main Causes of Construction Site Accidents?
Heavy equipment like, backhoes, cranes, and large trucks are a necessary requirement on a construction site. Their use requires very strict rules and stringent adherence to all safety protocols. State safety inspectors periodically visit construction sites to insure all safety standards are followed. While most construction sites are safe and obey all statutes and regulations, not all are so responsible. Heavy equipment and faulty operators are often at fault for construction site car accidents. Negligence, accidental or out of laziness, is still negligence. If it causes an accident on the worksite, the negligent party must be held financially responsible.
Trenches and cave-ins are often the culprit in construction site car accidents. Excavation cave-ins are responsible for more than 70 deaths on construction sites each year and more than 700 injuries. If proper procedures are not followed, anyone driving on a construction site sear an excavation can be a victim when their car is sucked into a falling excavation site. Because of the extremely dangerous nature of excavation, very specific techniques must be used. If the excavation was not done correctly or was not repaired as protocol dictates, the project manager is responsible for any car accidents it causes.
What to do After a Construction Accident
There are many dangers at a construction site, but workers are entitled to feel safe and secure when earning a living for their family. The California Workers' Compensation Act has helped to support and defend injured workers but it's always best to have someone on your side if you have been injured in an accident on a construction site. A helpful tip in this situation is to have documentation of everything relatable to the accident such as doctor's bills, diagnosis and police reports.
FREE CONSULTATION: Call Sacramento car accident attorney Moseley Collins at (916) 444-4444
If you or a loved one has been injured in an car accident on a construction site, you will need a lawyer with experience. Call Moseley Collins at (916) 444-4444 for FREE accident case consultation. Moseley is a personal injury attorney serving those badly hurt throughout California.
There is absolutely no fee to discuss your case and there is absolutely no fee unless we win and get you the money you are entitled to. We are on your side and know what to do to get you compensation and justice.
Moseley Collins
980 9th St, 16th Floor
Sacramento, CA 95814
Phone: (916) 444-4444
https://www.moseleycollins.com